'God Information'
Name
Iterdom
Player
nightcaller92
Appearance
A mostly tan unicorn with purple eyes
Domains
Travel; Communication, Diversity
Symbol
A white wing
Alignment
Neutral
'Actions'
Avatars
Planes
Artifacts
Medallions of Communication
Exarches
Heroes
Races
Nations
Monsters
Plants
Landforms
Iterdom is the 4th Lord of Creation
Description
Edit
Iterdom is the manifestation of the concept of travel. He is neutral, and doesn't participate conflict without good reason for doing so. He is not specifically allies or enemies with any other gods (however he does show great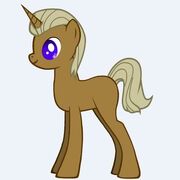 respect to the two original goddesses), though he will still attempt to bring about retribution to those who disrespect him or his fellow deities.
He is sometimes called the Father of Travel and the Inventor of Communication, and is noted as the primary being who makes and supports diversity.
Appearance
Edit
Iterdom naturally looks like a tan unicorn with a paler tan mane and tail. His eyes are pure violet, and are quite noticeable in relation to the rest of him. His cutie mark is a wing.
Iterdom's originates as a creation of Solaria, alongside Equina , and is among the oldest deities, making him one of the few who know what things were like before the world was made.
Iterdom gave Equina the extra energy she needed to make the planet, Hestrgard , and created the Medallions of Communication .
Ad blocker interference detected!
Wikia is a free-to-use site that makes money from advertising. We have a modified experience for viewers using ad blockers

Wikia is not accessible if you've made further modifications. Remove the custom ad blocker rule(s) and the page will load as expected.