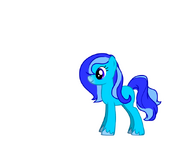 'God Information'
Name
Aquarion
Player
Lyras_pie
Appearance
Light blue pony with flowing mane speckled with ice
Domains
Sea, Water, Ice
Symbol
An icey wave
Alignment
Neutral
'Actions'
Avatars
Planes
Artifacts
Exarches
Heroes
Races
Nations
Monsters
Plants
Landforms
The seas of the planet yet to be named
Aquarion is the #3rd Lord of Creation
Description
God of the sea, water, and ice. A god whose main desire is to bring the blessing of water and ice where ever possible, but will not hesitate to summon a typhoon of sink a ship at sea if the victim desrves it.
Appearance
A light blue pony with a flowing mane flecked with ice, her symbol is an icey wave
Origin
Aquarion was brought into existance by Larisia Starshine at the same time as Covell
History
Created the seas of the large planted made by Covell
Ad blocker interference detected!
Wikia is a free-to-use site that makes money from advertising. We have a modified experience for viewers using ad blockers

Wikia is not accessible if you've made further modifications. Remove the custom ad blocker rule(s) and the page will load as expected.